LOSS AFTER LOSS

I've been considering the notion that LGBT activists may be their own worst enemies when it comes to the legalization of same-sex marriage in America although they will adamantly claim that title belongs to people such as myself.
It is universally accepted that the gay and lesbian community have faced unquestioned defeat at the ballot box over the past decade. Thirty-one states have put the issue of marriage to the voters and all thirty-one times the people voted to define marriage between a man and a woman.
TAKING IT TO THE COURTS
That is a pretty dismal record for same-sex marriage advocates. So dismal, in fact, that they have sought recourse from the will of the people by taking their case to the courts. Lawsuits have been filed over the past few years across this country from Massachusetts to Minnesota to California
.
Courtrooms like this have become the preferred battleground for gay activists
in the pursuit of the homosexual agenda.
Most popular among these cases is quite possibility the ongoing battle over California's Proposition 8. In 2008, the voters of California responded to a ruling by the CA Supreme Court which legalized same-sex marriage by amending the state constitution to define marriage between a man and a woman.
Today, the constitutionality of that ballot initiative is in limbo after San Francisco-based Federal Judge Vaughn Walker ruled on August 4th that the ban on same-sex marriage was unconstitutional for a number of reasons.
The case is now on appeal to the 9th Circuit Court of Appeals and is expected to be appealed to the U.S. Supreme Court regardless of whatever decision the Appellate Court issues.
In Minnesota, where the first-ever same-sex marriage lawsuit in the United States was filed back in the early 1970s, a group called "Marry Me Minnesota" filed a new
lawsuit
this year challenging the state's ban on same-sex marriage again.
The original lawsuit obviously wasn't successful and although it was appealed to the U.S. Supreme Court in 1972, the Court dismissed the case "for want of a substantial federal question". This case, Baker v. Nelson, has been the federal precedent on the matter of same-sex marriage for the past 38 years.
Gay rights groups in Minnesota are not happy about the lawsuit, fearing the conservative Minnesota Supreme Court could issue a ruling against the plaintiffs which would reaffirm the state's 1972 precedent and set back the greater homosexual agenda for years to come.
In Massachusetts, a gay rights attorney was successful in her bid earlier this year to have part of the Defense of Marriage Act deemed unconstitutional by a Boston-based judge, again, for a number of reasons.
In Wisconsin, a political science professor sought to have the state's 2006 voter-approved referendum banning same-sex marriage deemed unconstitutional on a technicality. The State Supreme Court ruled unanimously against the professor this summer and affirmed the constitutionality of the referendum approved by nearly two-thirds of Wisconsinites.
In Wyoming, reports came out in August that a gay couple was challenging the state's law that defines marriage specifically as the union of "a male and a female person."
The gay couple were representing themselves before U.S. District Judge Alan B. Johnson in the case but suddenly dropped their lawsuit after gay rights groups in the state wouldn't support them, claiming the lawsuit would, again, jeopardize the greater homosexual agenda.
Lawsuits are pending or active in other states across the Nation but the real question is whether or not the strategy of circumventing the voters through the courthouse is a good strategy or will it backfire?
OUTLOOK MOVING FORWARD: ARE THEIR LEGAL VICTORIES NUMBERED?
Make no mistake about it. Gay rights advocates have a much better success rate in the courts. Of the five states that have same-sex marriage today, three of them legalized same-sex marriage through judicial order.
This year alone, as mentioned earlier, Proposition 8 and the Defense of Marriage Act were deemed, at least in part, unconstitutional. Seems like their strategy is working – if you're near-sighted that is. But what about the long-term outlook where the stakes are higher?
Of all the legal victories the homosexual activists can be proud of over the past few years, they are but one legal defeat away from losing everything. Will all of their legal victories be trumped by one coming loss in the Supreme Court?
The Proposition 8 case will be appealed to the Supreme Court which is "the most conservative court since the 1930s," wrote
Erwin Chemerinsky
in The Los Angeles Times. If that's the case, it's unlikely that a majority of them will find a right to same-sex marriage implied by the U.S. Constitution.
Facing defeat in the Supreme Court, as they likely will, the gay and lesbian community will be left to the mercy of state legislatures willing to grant them the now-ruled-to-be privilege, not the right, to marry a person of the same-sex. Quite frankly, the states legislatures that would hypothetically grant such a privilege already have done so.
WHAT THEY OUGHT TO DO BUT ARE TOO IMPATIENT TO DO
Why I would be offering strategy advice to the gay and lesbian community on how they may actually achieve nationwide same-sex marriage is beyond me but knowing of their strong disdain for me on a personal level, I would expect them to do the opposite of whatever I say. Ever hear of the phrase bite off your nose to spite your face?
The real strategy for same-sex marriage in America is the American people. Poll after poll suggests that opposition to same-sex marriage weakens.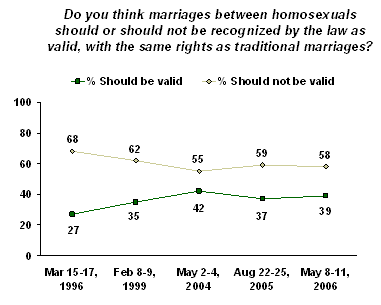 A Gallup poll from March 1996 showed that 68% of Americans disapproved of marriages between homosexuals while 27% were in favor. This polling data was taken during the passage of the Defense of Marriage Act and demonstrates a supermajority of Americans favoring marriage between a man and a woman and believing that only such marriages should be valid.
By 2004 that supermajority had slimmed 13 points to 55% of Americans who indicated disapproval of same-sex marriages. The majority of those 13 points went to the other side, bringing the percentage of Americans in support of same-sex marriage in 2004 to 42%.
Gallup came out with more polling data in 2007 indicating that only 53% of Americans were opposed to same-sex marriage and 46% were in favor. Think about that. A decade passed and support for same-sex marriage grew by 19 points while opposition to it dropped by 15. See the video below for more information.
I believe this is in part where the National Organization for Marriage (NOM) comes from. The "About NOM" section of their website reads:
Founded in 2007 in response to the growing need for an organized opposition to same-sex marriage in state legislatures, NOM serves as a national resource for marriage-related initiatives at the state and local level.
Indeed, a decade of polls were showing strong gains for same-sex marriage advocates. The founders of NOM realized there was no organized group on a national level tackling this issue and informing the public of the importance of preserving marriage between a man and a woman.
It is no surprise then, that Gallup polls from 2008 and 2009 both showed increases in public opposition to same-sex marriage peaking at 57% in 2009 before leveling off at 53% this year. That May 2010 Gallup poll showed that only 44% of Americans support same-sex marriage, a 2-point drop in support since 2007.
It is fair to say that the National Organization for marriage has, at the very least, made the public take a second look at same-sex marriage, which would explain the abrupt halt in decreasing opposition to it, and at the very best, turned the momentum of public opinion around, which would explain the decrease in support for same-sex marriage since 2007.
Considering our
report
analyzing the impact of the 2010 mid-term elections on the same-sex marriage movement, it is fair to say that the prospects for new legislative efforts to redefine marriage are slim and will remain slim through 2012 when conservatives will be motivated and voting in high numbers (again) in opposition to Barack Obama's re-election bid.
Chief Justice John Roberts
Therefore, elections that take place over the next couple years are going to bring about victories for conservative candidates, especially those candidates backed by the Tea Party. Generally speaking those types of candidates are not sympathetic to the homosexual agenda.
Now consider the current conservative lean of the U.S. Supreme Court. The Robert's Court is unlikely to liberalize anytime in the near future, certainly not before the Court decides the marriage issue in the next few terms.
The question is whether or not this conservative Supreme Court under Chief Justice John Roberts will trump a decade worth of legal victories same-sex marriage advocates have enjoyed in the lower courts. For same-sex marriage advocates, it's a huge all-or-nothing risk to take.
THEIR STRATEGY IS DOOMED TO BACKFIRE
Especially when public opinion polls indicate fluctuating, yet generally growing support for same-sex marriage over the past decade. American society has become more and more liberal since the 1960's.
Gallup Poll from December 24, 2009.
Meanwhile, although
78% Americans still claim to be Christians
, fewer and fewer Americans understand what Christianity is and were unable to answer basic questions about the Bible in a recent
survey
conducted by Pew Forum on Religion and Public Life.
Compare that to the 89% of Americans that claimed to be Christians in 1973 and 91% in 1948. Likewise, Atheism has grown by over 150% since that 1978 poll.
CNN published a 2009 article
America becoming less Christian, survey finds
and wrote: "America is a less Christian nation than it was 20 years ago, and Christianity is not losing out to other religions, but primarily to a rejection of religion altogether."
It's not that Americans are necessarily growing more approving of same-sex marriage or the homosexual agenda; it's just that they just don't care anymore.
William Donahue, president of the Catholic League attributed the survey's findings to the growth of individualism, the article reads, and told Lou Dobbs: "The three most dreaded words are thou shalt not… they are saying I don't want to be told what to do with my life."
Now the LGBT community is on the verge of losing it all in the Supreme Court with only their impatience to blame. A 2013 or 2014 Supreme Court decision against same-sex marriage would be devastating to their cause and will set them back decades, regardless of the direction public opinion polls go.
I can very easily see a time in the not-so-distant future when a 2015 Gallup poll, for instance, shows for the first time that a majority (or at lease plurality) of Americans support same-sex marriage. But by then that won't mean anything because the recently printed Robert's Court ruling affirming marriage as a legitimate state interest which may be limited to a man and a woman will still have that fresh-out-of-the-printer smell. Have you ever smelled a new book? You know what I'm talking about.
It's clear as day that America's moral compass has been knocked around and the calibration has since been thrown off. The moral direction our country is going makes me think of the Perfect Storm movie. The interesting thing is that, according to Real Clear Politics, over 60% of Americans think the country is on the wrong track, too.
And this is, of course, welcome news for gays and lesbians who utter separation of church and state arguments like champion orators. It's a case of too-bad-for-them, very-good-for-us as even their best orators won't be able to surmount the looming strength of recent Supreme Court ruling against their cause.